I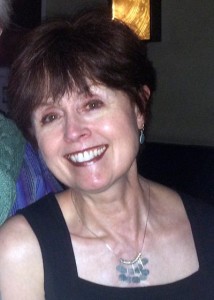 've always believed in magic. Not the pulling-a-rabbit-from-the-hat kind of magic, but the real magic of our imaginations. I truly believe that we are the creators of our own realities (thank you Jane Roberts) and that our ability to do and to be anything is limitless. Perhaps that's the reason behind my long list of jobs/careers (at last count there were 13) which includes everything from subsistence farming in Nova Scotia to promoting the jewels and designers of Tiffany & Co. in New York.
I grew up in Minneapolis, studied interior design, art history and architecture at the University of Minnesota and went to work as a display artist when I graduated. Convinced the world was coming to an end, I moved to Nova Scotia with my first husband, where we bought a farm and grew most of our food, raised chickens and goats, and kept bees. As idyllic as that could have been, I was miserable. So off I went to Maine where, with the help of a partner, I grew dry beans and wheat for the organic market, ran a food co-op, co-authored a cookbook and did runway modeling, TV commercials and voice-overs, and in my spare time altered clothes for friends and neighbors. Still miserable.
Then one day, I came across a copy of Werner Erhard's book on EST. I'd heard about the training, but I didn't have the money nor the desire to take it. But from that book, I got all I needed to know: I and no one else was responsible for my miserable state, my perceived failures, and my pain. What a revelation!
With a newly-found sense of exhilaration, I sold my rototiller for $700.00 and hitched a ride to New York with a friend. A month later I was working in the public relations department at Tiffany & Co. where I quickly learned the difference between publicity and advertising and how to get a lot done in a short period of time. Five years later, my beloved boss was deposed and I moved on to a Madeline DeVries, a public relations firm where I worked as Group Supervisor for a number of lifestyle accounts. I was no longer miserable, but the stress of living in New York was beginning to take a toll on my health and my psyche.
Then out of the blue, I got a call from the California Redwood Association, and after flying out for an interview, I was offered the job of publicity manager. For the next four years, I wrote countless articles promoting the use of redwood lumber, I scouted redwood applications, hired photographers to shoot them and styled the locations. I also spent a lot of time watching deer outside my window and seals swimming by in Richardson Bay. There wasn't quite enough for me to do and boredom set in.
Are you still with me? I don't know about you, but I'm getting exhausted just writing this. Anyway, after a year of freelance writing and photo styling, I went to work for friends managing their successful interior design business. I was responsible for client contracts, billing, payroll, insurance, product procurement, marketing, and much much, more. Four years of that and I was ready for another change.
Thanks to a friend I'd met in New York years before, I was hired to supervise the home team at a branding firm with major Fortune 500 clients. There was no job description, so I made it up as I went along. They needed a new CPA, a new payroll company and someone to handle employee relations. I tackled it all and more, but the scene was so chaotic and stressful that I was out of there in less than a year.
As I was wondering what to do next, a photographer I commissioned regularly when I was at the California Redwood Association asked me to rep him. I knew very little about representing artists, but with my experience in business management and my love of photography it seemed like a great idea. And it was great for the next 15 years. I had the pleasure of representing a number of wonderful photographers and the opportunity to work with many talented creatives across the country on ad campaigns, design projects, and editorial assignments. I even got to meet Dame Edna! But something else was brewing and I needed time and space to figure out what it was.
So I took a sabbatical. Free at last to do exactly what I wanted to do, I started this blog and I began dancing again after a 25-year hiatus. I studied meditation, hands-on healing, core shamanism and reincarnation. I learned to dowse. And I wrote a novel, a mystical coming-of-age story about the reunion of a 12-year-old girl and her seven missing soul parts.
It is my greatest wish that my stories will inspire you to listen to your heart and find the courage to take on new challenges. I invite you to leave comments here and to join me on Facebook.