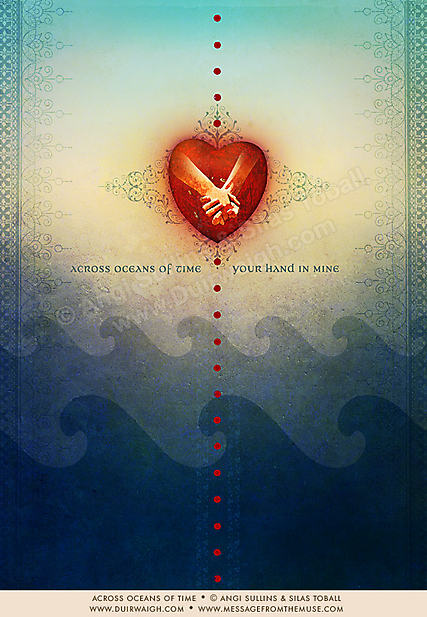 If you've been agonizing over the Gulf crisis, you may be relieved to know that there's something you can do that doesn't require grabbing your hazmat suit and hopping on a plane to New Orleans.
A group of global visionaries put out a call last month to join them in an experiment in collective consciousness, The Gulf Call to Sacred Action. You simply sign up online to listen and participate in what is hoped to be the beginning of a new global movement of planetary healing.
The first call on June 26th led by Deepak Chopra, Lynne McTaggart, and Jean Houston, focused on setting intention. Deepak started by sharing an old Cree proverb:
"Only when the last tree has died, the last river has been poisoned, and the last fish has been caught will we realize we cannot eat money."
He then reviewed his Eight Actions for the Gulf and Beyond and invited the 7,000 participants to join his new LinkedIn group, Collective Creativity.
Of all the Evolutionary Leaders on the call, Lynne McTaggart, author, scientist, and architect of The Intention Experiments, has the most experience in the use of collective intention. Having conducted 21 large-scale experiments, she's determined the effectiveness of her subjects' focused attention on scientifically quantifiable targets in laboratories around the globe.
Lynne's call to action for the Gulf crisis included finding positive intentions for BP; finding ways to move beyond our reliance on petroleum; and healing the rift between mankind and nature. She then challenged us to 'power up', focus, and actively imagine with all five senses BP correcting the Gulf situation as soon as possible while visualizing all the ecosystems restored to perfect health and imagining our connection with everyone else on the call. By working together in a group, it's hoped that new and creative solutions will emerge that can be carried forward to change other world events.
To step up our collective efforts, Lynne has suggested that we send the following intention to BP's engineers every day at 1pm EST, mentally imagining their success:
"My intention is for BP's engineers to immediately and successfully divert the Deepwater Horizon oil leak with no long-term damage to the environment."
Jean Houston, Senior Consultant to the UN in Human Development and co-director of The Foundation of Mind Research, suggested that we see this collective intention as an accomplished fact. She looks at this tragedy as the beginning of a new story – our entry into "high-level civilization" – a masterpiece of possibility to create new ways of being. To move humanity forward, she suggests that we use our senses more, explore our imaginations, and learn to nourish and support positive emotions. With a collective mind, we can empower higher modes of knowing that will empower those attempting to stop the oil hemorrhaging into the Gulf.
Barbara Marx Hubbard, President of the Foundation for Conscious Evolution and co-founder of the World Future Society, believes that we may look back at this environmental catastrophe that has the potential to make the entire earth uninhabitable as the best thing that ever happened to us. Crisis proceeds transformation.
So there you are. Don't you feel better already? I know I do. For me, joining with a group of dedicated people focused on healing the planet beats sitting around feeling helpless mired in the negativity of anger and resentment. The next call is Tuesday, July 6th at 8:30 pm EST. I hope you'll join in!