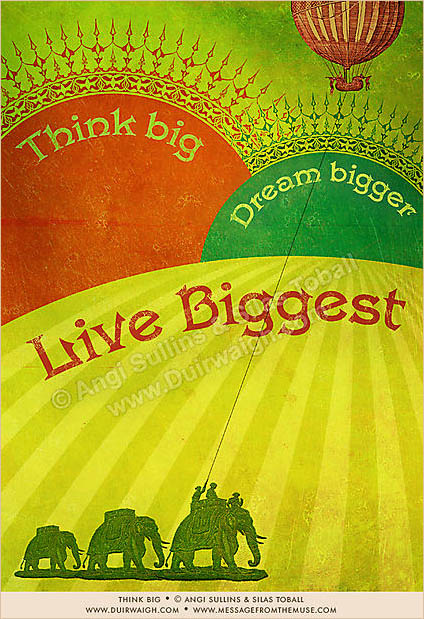 "So many of us are living limited lives not because we have to but because we think we have to." – Dr. Bruce Lipton
Last December, my friend Mike told me that he was in Phase Three of his total makeover, or what has since become known as The Mikeover. He had completely revamped his wardrobe, dumped his old car and leased a new one, he was in the middle of finding new furnishings for his new condo and would soon be refurbishing his new office as the last act of his transformation.
WHAT? Who does this – especially in the midst of an economic downturn? I was intrigued. I had to know what prompted this great change. Did he wake up one morning, look around and say, "NOTHING IS WORKING – I HAVE TO START OVER"? It was a little like that, but as Mike said, "it all kind of snowballed organically".
Over a year ago, our mutual friend Todd encouraged Mike to splurge on a pair of Gucci sunglasses. This may not seem like a big thing, but for Mike who grew up in a family of modest means with four siblings, this little luxury was the beginning of a shift in his perspective. Six months later Todd tempted him with a pair of Prada sunglasses (I know – what's with the sunglasses already?) and that was it.
Mike's wardrobe didn't measure up to the glasses. And once he'd replaced it with 'big boy clothes', getting into and out of his 11-year-old Honda Civic hatchback just didn't feel right. He'd had 'New Car' on his to do list for a few years, so this wasn't an altogether random idea. So with his new Infiniti G37 coupe and his hot wardrobe, coming home to his 'dump' (his words, not mine) of an apartment didn't feel right either. There were termites. There was an inconsiderate stomping, yelling upstairs neighbor. And he didn't feel at home in his neighborhood. 'New Apartment' had been on Mike's list, too, but it took the momentum of The Mikover to make it happen. Since then he's moved into a condo in a swank building downtown San Francisco, filled it with 'big boy' furniture, and he's having a house-warming party next weekend. YAY Mike!
With three phases complete, I was dying to know what impact all the changes had had on my friend. Did he feel different about himself? Were people responding to him differently? And here, in Mike's words, is the answer:
"I feel like I've grown up. I shifted from 'good enough' to having the things I really want and know work for me. I feel as if I'm living externally the stylish part of life for the first time ever, and it feels gratifying and good – especially knowing that I didn't have to pay through the nose for it. I never thought I could afford designer clothes, great furniture, etc., but Todd showed me that having great stuff doesn't necessarily mean having to spend a lot of money. I feel like I deserve it and that I earned it. And I am immensely grateful for it every day."
Mike's story has me thinking about my mother. She, too, lived modestly, but sometimes she entertained fantasies about a life of luxury . "If only I had a million dollars," she used to say. Then she would do – what? Go on a cruise? Buy a new car? She was never able to tell me what she'd do if someone handed her a big check, but the implication was that if this would occur, she would be happy at last.
Like my mother, many people believe that they have to 'HAVE' something in order to 'DO' something and then they will 'BE' successful and/or happy. But it doesn't work that way.
In her article, Become the Change, Colette Baron Reid says that to manifest the life we want, we must align our thoughts, feelings, and beliefs with the experience we want to create. In other words, imagine yourself being the person you want to be, take action toward your goal, and you will create what you want.
And in Conversations with God, Book 3, God/Neale Donald Walsch says, "Live the grandest version of the greatest vision you ever had about Who You Are. Begin the living of it by declaring it."
That's what Mike did.