When I was a child, I knew how to make myself invisible. I didn't do it consciously, but I was aware that much of the time people couldn't see me. Since then, I've learned that it's possible to modify the energy fields (auras) around us by practicing a type of shapeshifting. And I've also come to realize that I developed this ability to hide from my father.
Twenty-two years ago, I took a one-night class on 'channel writing' at the Learning Annex. I was experiencing chronic writer's block and this class was designed to help people unleash their creativity. After the class, I set up an appointment for a reading with the instructor, Dr. Loretta Ferrier, to get more information about my stuck condition and to get insight about some health issues.
Loretta zeroed in on the blockage right away. "You have accumulated a mass of energy as a result of refusing to follow your intuition. When you were a child, there was no space for you to do this. You held yourself back and you began to deform." After telling her that I had a terrible fear of my father from early childhood, she went into trance.
"This fear, this hatred you have experienced in this lifetime comes from another lifetime you shared with your father in early England. He was a well-known spiritual leader – strong, powerful and rigid. At home he abused you, your sister and your brother – it was a living nightmare. The damage he did was so enormous that his sensitive qualities were withheld from him in this lifetime and they won't be returned to him until he can handle them responsibly. Thus, in this lifetime with you, he was not able to feel any emotion. His job was to seek your forgiveness and make your life more pleasant. He learned some of these lessons but not all, so you will meet up with him again."
None of this came as a big surprise. I had imagined something like this was behind my strong negative feelings and my father's strange behavior. He never touched me in this lifetime, and now I understood that he'd been afraid to connect with me emotionally in any way. This answered my questions about my health problems, too, and now I understood why I had made myself invisible as a child and why meditating has been such a challenge.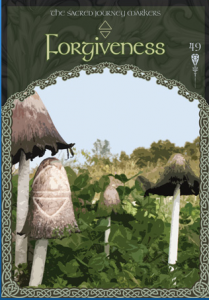 So what does this have to do with my upcoming pilgrimage? Apparently quite a lot. I thought I'd forgiven my father years ago, but from feelings of sadness that have come up in relation to him lately, it seems that I still have work to do. He's also popped up in every psychic reading I've had since I began this quest, and he's even managed to make his way into my dreams. And I've drawn FORGIVENESS over and over from Colette Baron-Reid's Wisdom Cards:
Drawing this marker says that you must now search your heart for any unresolved resentment, anger, or disagreements between you and another. If you're still hurt or angry about another's behavior, or if there are circumstances in your life that you resent, this is a time when it's crucial to release the negative energy surrounding those situations. Resisting this will only impede your growth and draw more unwanted experiences to you.
Well, I certainly don't want that – especially not in Delphi. Now I all I have to do is find a way to finally and totally forgive.